Sometimes you need to visualize data not contained in an RDBMS or NOSQL data store. For those times, Redash provides two URL-based mechanisms to pull in your data: URL and JSON. Either source can be added from the settings screen in Redash.
The JSON data source is currently only available as part of SaaS Redash. This page will be updated when it is added to the Open Source version as well. This is expected in the next major version release (version 8).
With URL, you can load large amounts of tabular data while abstracting away the underlying storage mechanism. This data source allows you to explicitly declare the types of data returned (text, dates, numbers e.g.).
The features of the URL data source will eventually be rolled into the JSON data source. At that time, the URL data source will be deprecated and this documentation will be updated. For future development we recommend using the JSON data source.
Now you can use the JSON data source for tabular data, non-tabular data, or API's where you do not control the underlying data structure. Redash treats all incoming data from the JSON data source as text; so you should be prepared to use table formatting when rendering the data.
If the server behind your URL data source requires HTTP authentication headers, you can enter them during data source setup. For the JSON data source, authentication must be explicitly passed in your queries.
JSON
Use the JSON Data Source to query arbitrary JSON API's. Setup is easy because no authentication is needed. Any RESTful JSON API will handle authentication through HTTP headers. So just create a new Data Source of type JSON and name it whatever you like ("JSON" is a good choice).
Usage
This Data Source takes queries in YAML format. Here's some examples using the GitHub API:
Return a list of objects from an endpoint
url

:

 https

:

//api.github.com/repos/getredash/redash/issues
This will return the result of the above API call as is.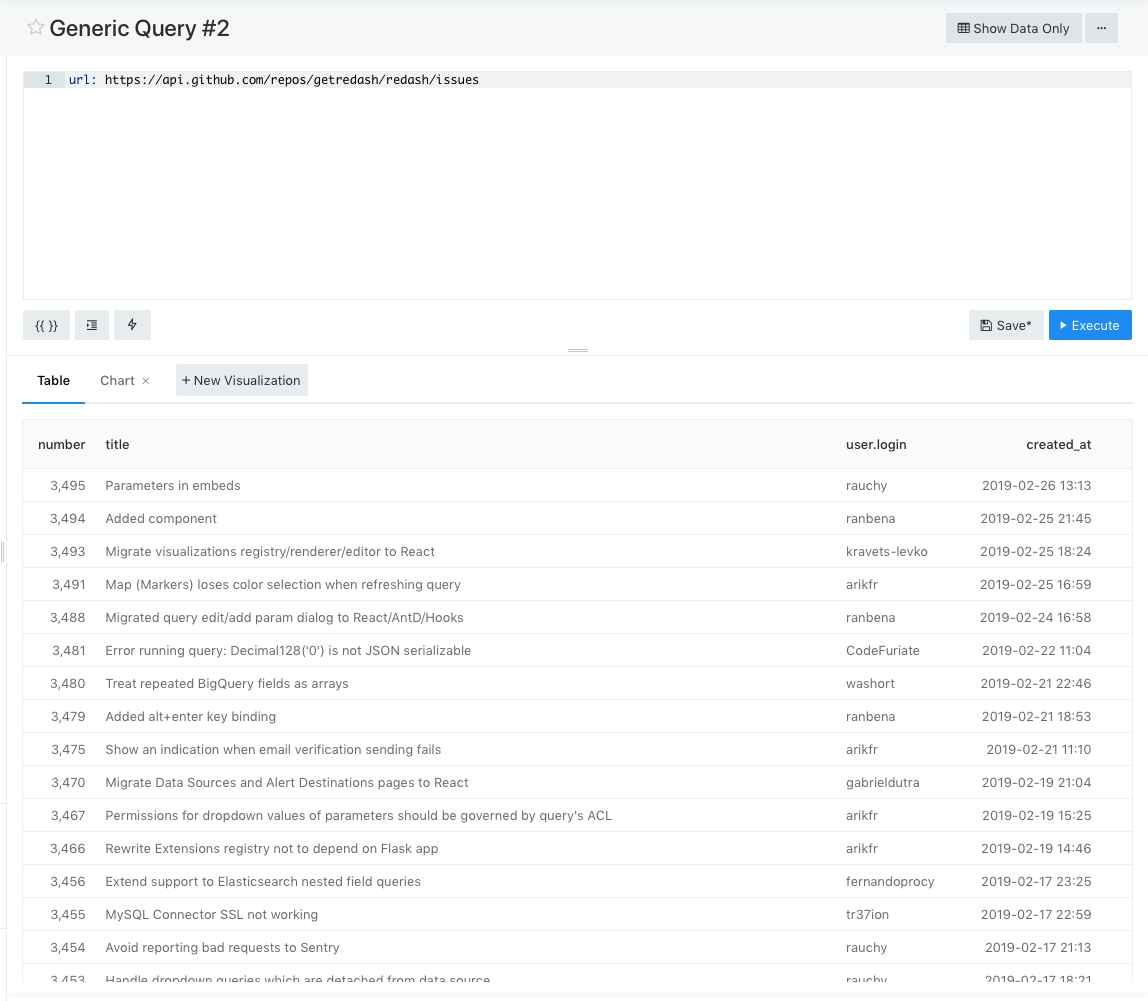 Return a single object
url

:

 https

:

//api.github.com/repos/getredash/redash
The above API call returns a single object, and this object is being converted to a row.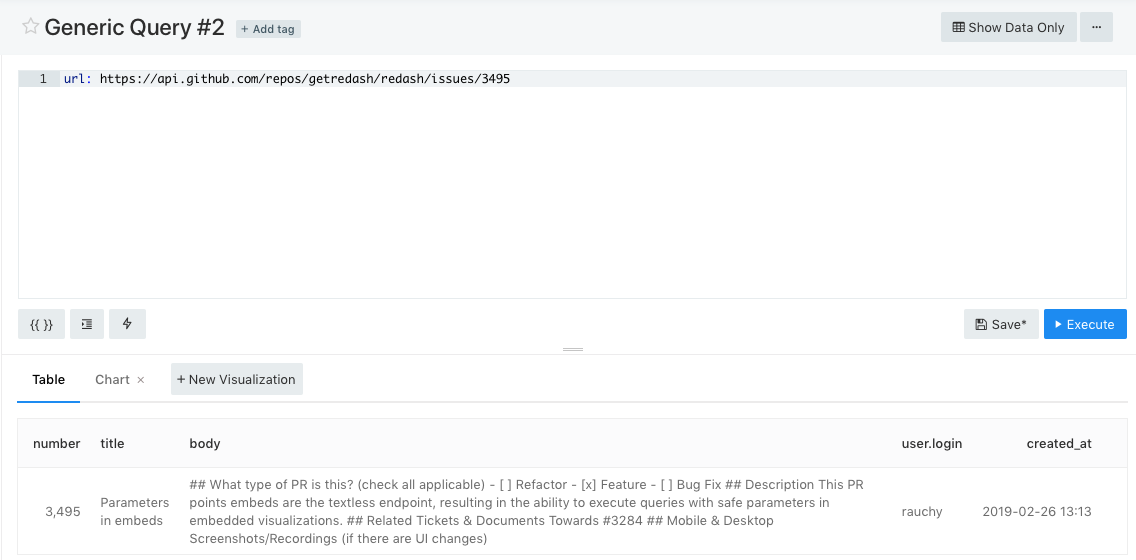 Return Specific Fields
In case you want to pick only specific fields from the resulting object(s), you can pass the fields option:
url

:

 https

:

//api.github.com/repos/getredash/redash/issues


fields

:

 

[

number

,

 title

]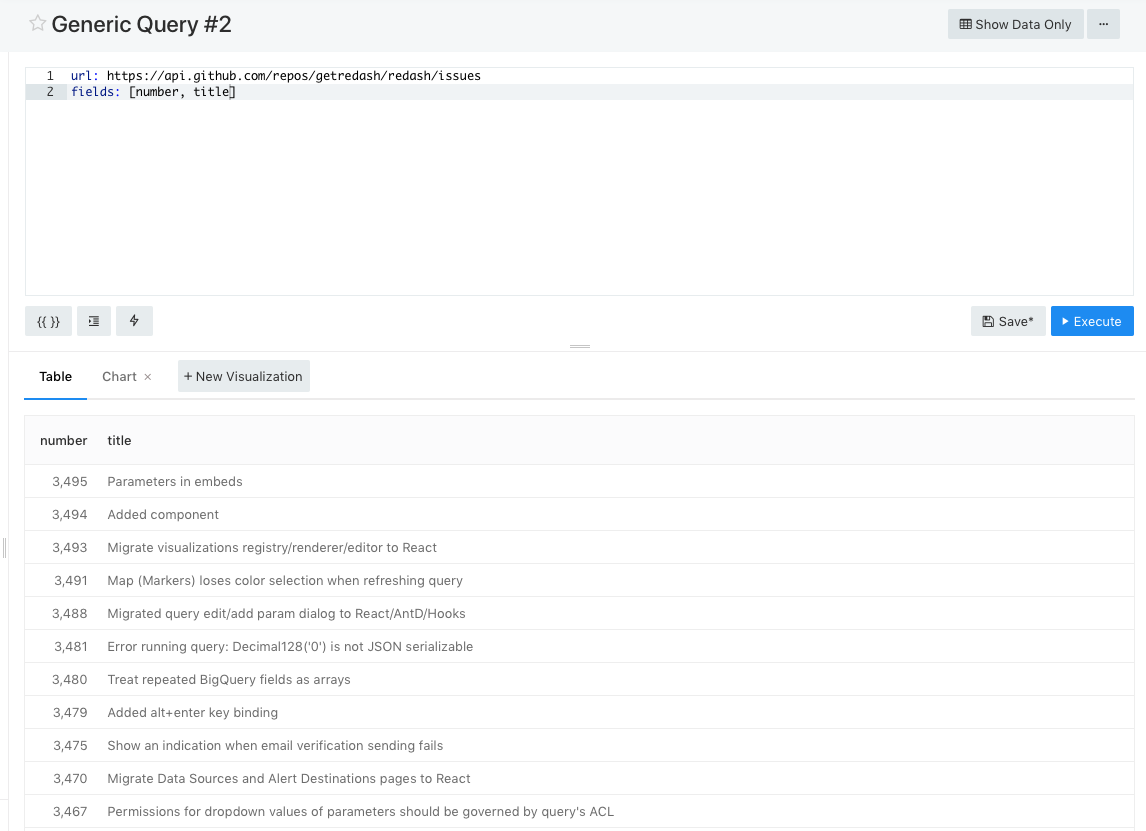 Return an inner object
Many JSON API's can return nested objects. You can access a nested object with the path key.
url

:

 https

:

//api.github.com/repos/getredash/redash/issues/3495


path

:

 assignees
The above query will use the assignee objects from the API result as the query result.
Pass query string parameters
You can either craft your own URLs, or you can pass the params option:
url

:

 

"https://api.github.com/search/issues"




params

:


  

q

:

 is

:

open type

:

pr repo

:

getredash/redash
  

sort

:

 created
  

order

:

 desc
The above is the same as:
url

:

 

"https://api.github.com/search/issues?q=+is:open+type:pr+repo:getredash/redash&sort=created&order=desc"
Additional HTTP Options
You can pass additional keys to modify various HTTP options:
method - the HTTP method to use (default: get)
headers - a dictionary of headers to send with the request
auth - basic authentication username/password (should be passed as an array: [username, password])
params - a dictionary of query string parameters to add to the URL
data - a dictionary of values to use as request body
json - same as data except that it's being converted to JSON
URL
The URL data source expects your endpoints to return tabular data in JSON format.
Usage
The body of your query will include only the URL that returns data, for example:
http:

//myserver/path/myquery
To manipulate the data (filter, sort, aggregate etc.) you can use the Query Results Data Source.
Required Format
The returned object must expose two keys: columns and rows.
The columns key should expose an array of javascript objects describing the columns to be included in your data set. Each object will include three keys:

rows should return an array of javascript objects representing each row of data. The keys for each object should match the name keys described in your columns array.
The following data types are supported for columns:
text
integer
float
boolean
string
datetime
date
An example of returned data appears below:
{
  "columns": [
    {
      "name": "date",
      "type": "date",
      "friendly_name": "date"
    },
    {
      "name": "day_number",
      "type": "integer",
      "friendly_name": "day_number"
    },
    {
      "name": "value",
      "type": "integer",
      "friendly_name": "value"
    },
    {
      "name": "total",
      "type": "integer",
      "friendly_name": "total"
    }
  ],
  "rows": [
    {
      "value": 40832,
      "total": 53141,
      "day_number": 0,
      "date": "2014-01-30"
    },
    {
      "value": 27296,
      "total": 53141,
      "day_number": 1,
      "date": "2014-01-30"
    },
    {
      "value": 22982,
      "total": 53141,
      "day_number": 2,
      "date": "2014-01-30"
    }
  ]
}
---